About SleepPhones®
AcousticSheep LLC designs and manufactures SleepPhones® and RunPhones® brand headphones, which are soft comfortable headphones in a patented headband design, with an emphasis on using environmentally-friendly materials and manufacturing processes. We strive to use local resources, stay technologically-savvy, and be socially responsible as we create a world of happy, healthy people.
SleepPhones Headphones
SleepPhones headphones are comprised of 3 major components:
HEADBAND

A flat, soft, comfy fabric headband made from one of our exclusive SheepCloud™ fabrics

SPEAKERS

Two ultra-flat speakers fit inside the headband

COMMUNICATION MECHANISM

Classic: This model has a cord that comes out of the back of the headband and connects to your device

Wireless: A Bluetooth® module is tucked inside the headband for this SleepPhones model providing a wireless connection to your device
The AcousticSheep Team
For the first 6 years, Jason and Wei-Shin ran the business out of their house. After selling 100,000 pieces, they decided to take their business to the next level, hiring their first full-time employee and setting up their warehouse in Erie, PA.
Now there are 20+ employees who all work together to bring you the very best products possible.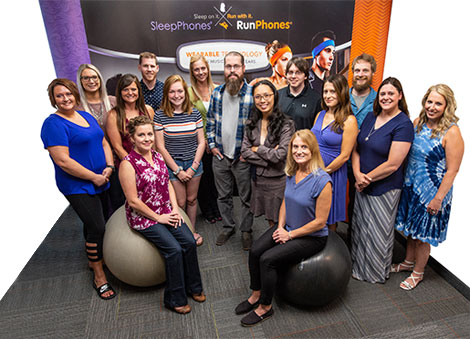 AcousticSheep LLC © 2023 All Rights Reserved.