What are SleepPhones®?
SleepPhones are the world's most comfortable headphones for sleeping.
The luxuriously soft headband contains thin removable speakers to play any type of music, audiobooks, meditation, white noise, or talk radio. Regular headphones and ear buds are simply not comfortable to wear all night long. SleepPhones® are fully padded with nothing sticking into the ears and are comfortable even for side sleepers. Lightweight, washable, hypoallergenic, and RoHS/CE compliant with the highest standards for electronics and batteries, SleepPhones® come with a 1 year limited warranty and satisfaction guarantee.
More than 9 out of 10 customers would recommend SleepPhones to a friend.
SleepPhones® for Everyday Use
Music Therapy for Sleep: Listen to meditation, hypnosis, or bedtime stories like audiobooks.

General Listening: Enjoy your music comfortably!

Block Snoring: Listen to ocean waves, white noise, or a stream to help block out the snoring.
Wearing SleepPhones®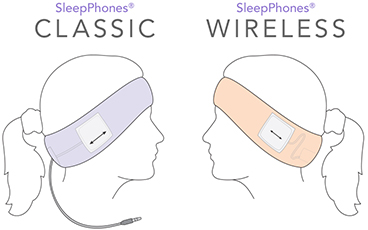 Holding the headphones, you'll notice the flat speakers— one on each side— inside of the headband.

Place the headband on your head (tag goes at the back of your head).

Once the headband is on, adjust the speakers so they are positioned directly over your ears. This will ensure great sound quality.

If you're using the SleepPhones® Classic, plug the cord into your MP3 player or other device. If you're using SleepPhones® Wireless or Effortless™, pair them with your Bluetooth® enabled device.

Turn on your tunes and enjoy!
Please Note: The speakers move inside of the headband, independently of the headband.

AcousticSheep LLC © 2023 All Rights Reserved.